Captain Zodiac Raft Expeditions, the original Ocean Rafting company established in 1974. The exciting ride on Zodiac Hurricanes will take you to Kealakekua Bay, Hawaii's finest marine preserve and the site of Captain Cook's Monument. Learn about the Hawaiian history of the area. Snorkel among hundreds of varieties of fish and coral. Marvel at the incredible geology and marine life as your captains entertain you with their narration and excite you with their skillful driving in Zodiacs used by the Navy Seals. The excursion will get you close up encounters with pods of Dolphins and Whales. Explore the sea caves and areas only accessible by Zodiac. Includes all snorkel gear, soft drinks and tropical snacks/lunch. Entertaining, informative, fun for all ages. You will be saying "Best thing we did on vacation!" An Experience of a Lifetime. ** For large groups of 7 or more, please call for availability and customized tour options **
ACTIVITIES:
Hawaii's first and original rafting adventure invites you to journey with us along the historic Kona Coast. Your naturalist captain will entertain you with tales of Hawaiian folklore and history as you travel to pristine Kealakekua Bay, home of the Captain Cook Monument. Snorkel among beautiful tropical fish living in coral gardens. Then snack on a tasty Hawaiian snack in the marine sanctuary. Learn about the geology of the island as you venture into sea caves and past lava tubes.

**Available on most Sundays, Wednesdays, Thursdays, and Saturdays**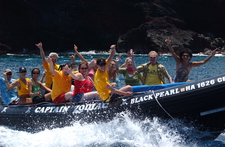 Captain Zodiac's 5-hour "BEAT THE CROWD" Mid Day Adventure departs at 10:00 am returns at 3:00 pm. Plan on arriving to Kealakekua Bay after the other boats have left to provide a more intimate, uncrowded snorkel experience. Captains have the option for more site seeing, or added time with humpback whales, pilot whales and dolphins! Includes a light deli lunch, chips, cookies, fresh local pineapple, bottled water and soft drinks. Tour includes all signature items, dolphins and whales, sea caves and snorkeling.

**Available on most Mondays, Tuesdays, & Fridays**
Cancellation Policy: A 48-hour notice required for cancellations. You are guaranteeing your seats, so within 48-hours of the tour departure time, there are NO refunds. For parties of 6 or more, or exclusive charters, the cancellation policy is a 72-hour advance notice. Any cancellation less than 72-hours is subject to full charge.