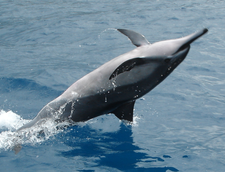 Child Price:
$84.10
-
Members Price:
$84.10
Imagine your first sighting of a pod of Hawaiian spinner dolphins. They swim effortlessly along in large social groups called "pods". Our Zodiac approaches cautiously and then suddenly there they are amazingly close, right next to the raft. Your captain, careful not to disturb them, follows along as they circle their resting area.

You suit up into mask and fins and gently slip over the side. Having been briefed on proper protocol, you gently float in the vicinity of the dolphin pod, hoping they will approach. Then it happens, the pod moves closer and you see them gliding along beneath you. You see a "keiki", a young baby dolphin, keeping close to its mother. You hear the "clicks" of their sonar and it seems like they are looking right at you!

A dolphin encounter is the experience of a lifetime. Hawaii's spinner dolphins are a close knit family unit. Pods of dolphins frequent the Kona coast waters taking time to rest during the day before their nocturnal feeding schedule. Captain Zodiac follows NOAA (National Oceanic and Atmospheric Administration) recommendations for safe encounters with marine mammals.

This 3 hour tour may include a reef snorkel, time permitting, as well as, soft drinks, tropical snacks, snorkel gear and professional instructions. Zodiac rafts are a fast and fun ride how-ever ocean rafting can be rough at times and we do not recommend this tour for anyone with any back or neck problems or pregnant ladies.

Accommodation Information:
A 48-hour notice required for cancellations. You are guaranteeing your seats, so within 48-hours of the tour departure time, there are NO refunds. For parties of 6 or more, or exclusive charters, the cancellation policy is a 72-hour advance notice. Any cancellation less than 72-hours is subject to full charge.