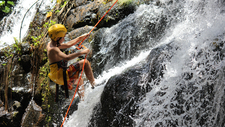 Adult (12+ yrs) Price:
$179.93
-
Members Price:
$179.93
Check in at DA LIFE Outdoor Gear shop at Kalapaki Beach.

ALOHA,

Please bring the following:
1. Towel
2. Swimming clothes and fitted dri-fit top
3. Extra set of dry clothes
4. Light jacket or wetsuit top during winter months
(Wetsuit tops available for rent $15 upon check-in)
5. Non-slip water friendly footwear
(Water shoes available for rent $10.00 upon check-in)
6. Bug Spray
7. Snacks
(Lunch is served at end of tour)

We reserve the right to cancel a trip due to safety, weather, or not meeting the minimum tour count required to operate. Do not assume we have called off your tour if you see rain!
We want you to enjoy your tour, but we will not risk our guests' safety.

Tour Details:
A 10-min van ride takes us to the beginning of our own private jungle trail. (Our company leases 40 acres of private land adjoining the Hulei'a Wildlife Refuge.)

After a detailed rappelling and safety lesson on a 25 ft dry wall, we start the walk down to the waterfalls. (for rappel gear, waist size must be 23" to 48".)

This is a 15 min walk through a tropical forest abundant with succulent guava, passion fruit, laua'e fern and noni fruit, leading to your ultimate destination, two secluded, private waterfalls!

The first 30 ft. waterfall is named "Bamboo Falls". Here is where guests will get their first chances to rappel.

The second is 60ft. cascading Papakole'a (aka Dundee) falls. This is where guests will challenge their skills (and nerve) rappelling down this awesome wall of dancing water. Then we'll head back to our shaded picnic area for a gourmet picnic lunch, overlooking the river and Haupu Mountain Range.

Field restrooms available at beginning of waterfall hike and at scenic overlook near picnic area.

Tour ends with guests being driven back to Da Life.

*This tour has a minimum age limit of 12 years old
Accommodation Information:
24 hour cancellation policy. Parties of 8+ is a 72 hour cancellation policy Cancellations within (24/72) hours of activity time are subject to a 50% charge. No-Shows are charged 100%.