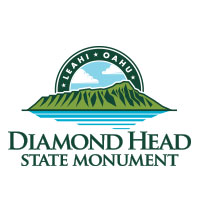 Diamond Head (Le'ahi) crater, one of Hawaii's most recognizable landmarks, was formed about 300,000 years ago after a single eruption sent ash and fine particles into the air. These materials cemented together to form the rock that makes up the crater. The trail to the summit of Diamond Head was built in 1908 as part of Oahu's coastal defense system. Today, Diamond Head State Monument is Oahu's third largest visitor attraction, with over 1,000,000 hikers annually. This popular historical trail offers a memorable Hawaiian adventure for the entire family. Diamond Head State Monument, managed by the State of Hawaii Department of Land and Natural Resources, Division of State Parks, is comprised of more than 475 acres of land, including the interior and outer slops of the crater as well as the hiking trail. Open 365 days a year, from 6 am to 6 pm. Just $5.00 parking fee
ACTIVITIES:
The State of Hawaii 's new Diamond Head Narrated Tour is available at the new Diamond Head Visitor Center, located in the Diamond Head crater at the begging of the hiking trail. Open 365 days a year. This incredible audio tour focuses on the history, culture, legends, geography, plant and animal life of Diamond Head. Just $3.00 per headset, no tax applies, tours at 7:30am, 10:30am and 1:30pm.

*Available in English and Japanese.

Cancellation Policy: No refunds for groups that no-show without cancelling 24 hours in advance.