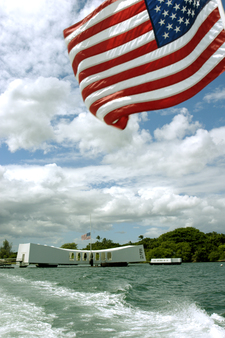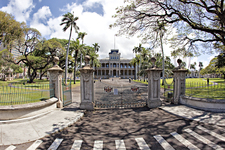 Adult Price:
$51.83
-
Members Price:
$51.83
Child Price:
$31.94
-
Members Price:
$31.94
Lap Child Price:
$0.00
-
Members Price:
$0.00
Available Daily ~ Pick Up time between 10:00AM-10:20AM ~ Return approx. 3:30PM

Stand at ground zero of the infamous attack and gaze up at a sky once filled with enemy planes. This is the place where history was made.

The E Noa Pearl Harbor City Tour immerses you in the sights, sounds and personal stories of the world-changing events of Pearl Harbor, December 1941. This is the way to see Pearl Harbor; with a knowledgeable E Noa guide who provides helpful insight and information, fascinating historical and cultural background-with the ease of transportation and a tour package that includes everything you need to visit the WWII Valor of the Pacific Monument and the USS Arizona Memorial.

Stops and sites on the Pearl Harbor City Tour may include:
*WWII Valor in the Pacific Monument and USS Arizona Memorial
*National Memorial Cemetery of the Pacific (Drive by Only)
*Historic Downtown Honolulu

**Security restrictions at Pearl Harbor will be enforced. Please do not bring large bags or anything that could offer concealment. Storage is available at Pearl Harbor for $4.00.

Attire: Dress comfortably but please remember that shirts and shoes required on the USS Arizona Memorial; swimsuits not permitted.

*Driver reserves right to adjust route for maximum visitor enjoyment and safety.
*Be ready for spur-of-the-moment stops, unexpected views and special sightseeing along the way!