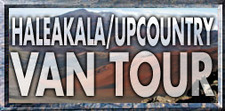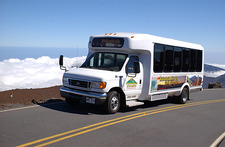 Biker Price:
$186.46
-
Members Price:
$149.17
Non-biker (Adult ) Price:
$155.21
-
Members Price:
$124.17
Non-biker (Child) Price:
$134.38
-
Members Price:
$107.50
Tour Haleakala National Park, which includes the summit, crater, and visitor center then enjoy a 23 mile GUIDED bike ride down Haleakala. We stage at 6500'after the park tour. Guided bike ride down Haleakala and back to our store in Haiku. The guided tour will have the comfort of a cruise leader guiding you down Haleakala and the convenience of an escort van following your group. We furnish Kona brand mountain bike, helmet, backpack, rain/wind gear, map with points of interest.