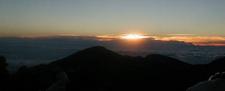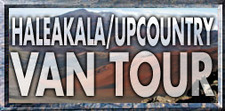 No# of Guest(s) Price:
$0.00
-
Members Price:
$0.00
Private Van (11 Passengers) Price:
$1947.92
-
Members Price:
$1947.92
Private Van (14 Passengers) Price:
$2479.17
-
Members Price:
$2479.17
Private Van (24 Passengers) Price:
$4250.01
-
Members Price:
$4250.01
This Exclusive Sunrise Tour offers private tours with the great Haleakala EcoTours service, Sunrise at the Summit, and Haleakala National Park Tour. Transportation will be provided in our new state of the art 11 passenger Transit vans or 25 passenger mini bus, built for luxury and comfort. The private setting provides a more personal and intimate experience with the Certified Guide.
You receive a private and exclusive tour. No other guests, just you and your Guide.

The Sunrise Tour offers guests an opportunity of a lifetime to view the sunrise from atop Haleakala at 10,000 ft. The tour is an exciting and informative guided vehicle tour of Haleakala National Park and the Upcountry area. Your day starts when we pick you up from your hotel. From that moment you begin your interpretive experience. Our NAI Certified Interpretive Guides will share with our guests the thrilling Culture and History of Maui as we provide a Central Maui Tour, North Shore Tour, and Upcountry Tour. Once inside Haleakala National Park, our interpretive guides will explore themes such as the unique Geology and Ecology of the surrounding area. After sunrise, guests will have an opportunity to visit the historic towns of Makawao and Paia. This is a Private Tour, stops, meal options, and times are customizable.