Phone: 808-926-3663
Year Established: 2004
Our one-of-a-kind company is based in Honolulu, offering GUIDED FOOD TOURS. We've designed intimate, delicious and social tours that are being called the "tastiest tours in Hawaii." You may have seen us on the FOOD TV Network and the Travel Channel. MSNBC named Hawaii Food Tours™ as one of the best food experiences in the world! Our tours will be a memorable & delicious highlight of your Hawaii vacation.
ACTIVITIES: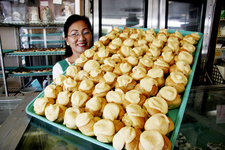 We offer two tours:

HOLE IN THE WALL TOUR (9am-2PM; $139 per person) is the single best tour in Hawaii, designed especially for those who love food and fun! MSNBC Network recently called us one of the best food experiences in the world! This fantastic tour features Yummy Food, Fascinating History, and Culinary Decadence! Bring a big appetite for this baby!

You will taste, touch and visit authentic locations offering food gems which contribute to Hawaii's delicious and diverse melting pot. The Hole-in-the-Wall Tour is like an entertaining, informative and delicious Honolulu City Tour.

You will enjoy several stops at Local, Ethnic and Exotic locations. You'll also see bustling Marketplaces and visit two of Hawaii's most famous Bakeries. This tour takes place all over Honolulu, definitely away from the touristy areas of Waikiki!

NORTHSHORE FOOD TOUR (TUESDAYS ONLY — 9am until about 3-4PM; — $159 per person

Now Includes ALL your Food, Fun, Taxes & Transportation!), delves into the history, lore and culture of the North Shore, with Great Food and Fun mixed in, as always.

Another one of our Best Tours in Hawaii – We are Rated #1 on the Trip Advisor website in the "Food & Drink" category!

Our tours include Luxury Air-Conditioned Hotel Pickups in Waikiki in our Gorgeous MERCEDES tour van. TRAVEL IN STYLE WITH US… Experience the best and you'll know why we are Rated #1.

Visitors to our island have always want to see the "country" side of Oahu, and enjoy the many delicious food offerings away from the city, but renting a car can be expensive, and driving our roads can be daunting. Plus, it's impossible to know the best foods to sample in a new place, right? That's where we come in!

This Top-Notch tour will showcase scenic wonders, TWO DIFFERENT SIT-DOWN LUNCHES, all of it amazing food (garlic shrimp, genuine Hawaiian food, roadside grinds, decadent and rich Dessert, & more!), with gorgeous photo opportunities to make your friends & family back home ultra-jealous! You'll even have time for a personal shopping break in a historic coffee and chocolate plantation!
Cancellation Policy: Full refund if canceled more than ONE WEEK prior to scheduled tour. Cancellations that occur within ONE WEEK of tour will be charged 100% of tour cost. "No-Shows" also will be charged full price of tour cost.