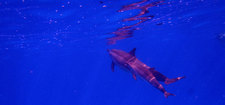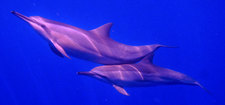 Passenger Price:
$182.29
-
Members Price:
$154.95
Dolphin Dreaming is all about Hawaiian Spinner Dolphins. Check-in time at the Honokohau Harbor at 6:45am. Hawaiian Spinner Dolphin get their name from the way they launch themselves out of the water into the air doing thrilling spins and flips.

We cruise the gorgeous Kona Coast keeping an eye out for these magical creatures until we reach our morning swim/snorkel destination. Upon arrival, everyone on the boat will be given a briefing on how to swim with the Dolphin. Showing them the utmost respect, you will enter the water accompanied by your Swim Guide, to swim and observe these magnificent creatures in their habitat.

Your guide will also take complimentary photos of you and the Dolphin. We are an eco minded company, and the Dolphin's well being is always our first priority.

We return to the harbor around 10:30am.
Accommodation Information:
Reservations must be canceled at least 36 hours to date of activity to receive a refund.