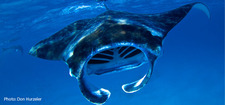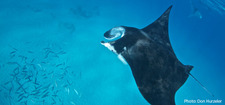 Passenger Price:
$104.17
-
Members Price:
$88.54
Congratulations on booking with a Green-Listed Manta Ray activity provider! We are proud to say that our crew members are certified Manta Ray naturalists, certified by the state of Hawaii.

We offer two trips, one with a check-in time of 4:30 pm and a later departure trip with at check-in time of 8:00 pm. These times are firm, it's impossible to check in late to a boat that has left the harbor.

Both leaves the harbor shortly after check-in on the Pueo Kai 1 or Pueo Kai 2.

Manta Rays are gentle giants with no teeth, barbs, or stingers. Manta Rays filter plankton from the water as their source of food. Lights are placed in the water to attract the plankton which in turn attracts the Mantas.

Come experience the magic of these gentle creatures as they perform an underwater ballet, doing barrel rolls under you, just inches away! Kona Manta Rays can be 6 ft to 18 ft, wing tip to wing tip. They can weigh over 1000 lbs, yet gracefully glide through the water, serenely in search of their dinner, in front of our light source.

Hawaii Oceanic will give you a premium vantage position to experience the Manta Magic on the Kona Coast, accompanied by a swim guide with you in the water.

After enjoying the Mantas for 45 minutes to an hour, we board Pueo Kai and make our way back to the harbor. Manta Ray sightings are a 95% success rate.

This adventure should definitely be in your Top 10 list of lifetime activities - it's that incredible!

Beverages, snacks, and complimentary photos included, as well as all gear.