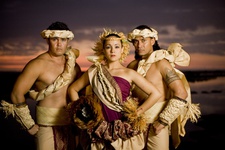 Adult Price:
$230.37
-
Members Price:
$230.37
Child Price:
$104.72
-
Members Price:
$104.72
Infant Price:
$0.00
-
Members Price:
$0.00
Come together as 'ohana at the beautiful Mauna Lani, Auberge to celebrate with a traditional lū'au in a place known for it's ho'okipa (hospitality) and aloha 'aina (love of the land). Guests are welcomed to be a part of a celebration as the people of this ahupua'a (land area) known as Kalahuipua'a gather and exchange the bounty and stories collected from the mountains to the sea.

Highlights include a Hawaiian style dinner, beverages, and Hawaiian performance.
Accommodation Information:
There is a 24 hour cancellation policy for all bookings. Reservations canceled before the 24 hour period will receive a 100% refund. Reservations canceled after the 24 hour period will be charged a 50% cancellation fee. Nonattendance without notice will be assessed the full cost of the tickets. Groups of 11 or more guests require a 48 hour notice of cancellation.