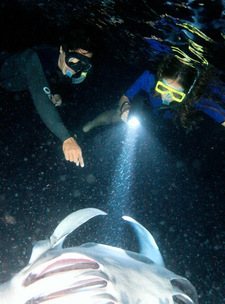 Sales COMP Price:
$0.00
-
Members Price:
$0.00
Exclusive Cruise(00) Price:
$3612.70
-
Members Price:
$3612.70
Exclusive Cruise(20) Price:
$2890.16
-
Members Price:
$2890.16
Exclusive Cruise(25) Price:
$2709.46
-
Members Price:
$2709.46
Enjoy an evening on the Hula Kai (26 snorkelers) outside Keauhou Bay, viewing Manta Rays feeding on plankton under lights. Trip is 1.5 hours in length. Please check in 30 minutes prior to your departure time to get fitted with wetsuits for all guests. Trip includes warm veggie soup, bread rolls, tea & hot chocolate. Snorkel, mask (up to –7 prescription) fins and wetsuit are included. There is a 92% chance of seeing manta rays and there are NO refunds if they do not show up.

Please check into Keauhou Bay 30 minutes prior to your departure time and don't forget to send us a name list of everyone going on the boat (aloha@fair-wind.com). Waivers must be signed by all guests (parents/guardians sign for under 18's) individually at the bay office upon arrival at Keauhou before departure. All guests need to bring towels and a coverup. Minimum age 7 years old.


PLEASE NOTE: Should deposit and/or final payment not be received by the due dates noted, we will assume alternate arrangements have been made and space will be released. Any changes to food and beverage may be subject to additional cost within 48 hours.

Accommodation Information:
*By checking this box I acknowledge that I, and my party, are able to swim on our own without assistance, have previous snorkeling experience, and for manta tour guests understand no refunds will be provided for zero manta sightings. Aloha, please be advised that our 24-hour cancellation policy has changed due to the recent worldwide threat of COVID-19. Please note, should you (or anyone in your group) feel ill or be showing clear signs of sickness, we kindly encourage you to postpone your snorkel cruise and reschedule for a later date if possible. A full refund will be issued to you (and the entire group if necessary) should such an occasion arise and are not able to reschedule. Any advanced notification you can provide us with would be greatly appreciated. Mahalo! ***For Manta Tour guests only: Should the rare occasion occur where there are zero manta sightings, you are welcome to come again free of charge. Some restrictions apply and no refunds provided.