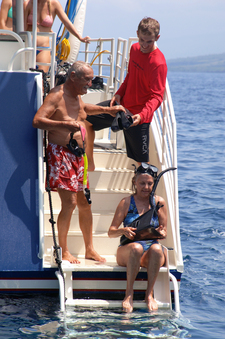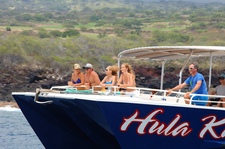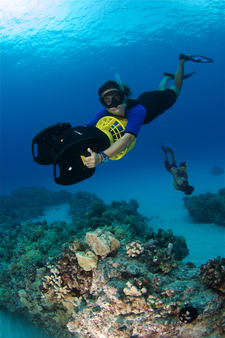 Thank you for requesting group information. Please note that this is a rate quote valid for 30 days, and space has not been confirmed. To confirm space, please contact our Group Sales Manager and a Group Contract will be sent.

Discover remote locations as unique as the vessel that gets you there. Hula Kai is an exciting, yet truly relaxing experience!

This 5-hour cruise departs daily from Keauhou Bay, the birthplace of Hawaii's longest reigning Monarch, King Kamehameha III. During the cruise, experience a scenic Hawaiian cultural journey with fascinating historical stories while viewing significant sites including the place of death of the great Circumnavigator Captain James Cook at Kealakekua Bay.

The Deluxe Kona Coast Cruise includes two unique snorkel destinations (generally Pali Kaholo, Red Hill, or possibly Kealakekua Bay), standup paddleboards, snorkel gear, and environmentally friendly reef-safe sunscreen. Guests are served breakfast of fresh hot egg frittatas, croissants, yogurt & granola, tropical island fruit, 100% Kona Coffee grown on our estate farm, herbal tea, and juice. Our hearty barbecue lunch includes Hawaii raised grass-fed beef burgers, teriyaki chicken tenders, vegetarian garden burgers, pasta salad, and tossed salad with homemade salad dressings. Beer and wine are available for purchase.

Guests must be 7 years or older to participate – and must be able to swim on their own and have previous snorkeling experience.


Accommodation Information:
*By checking this box I acknowledge that I, and my party, are able to swim on our own without assistance, have previous snorkeling experience, and for manta tour guests understand no refunds will be provided for zero manta sightings. Aloha, please be advised that our 24-hour cancellation policy has changed due to the recent worldwide threat of COVID-19. Please note, should you (or anyone in your group) feel ill or be showing clear signs of sickness, we kindly encourage you to postpone your snorkel cruise and reschedule for a later date if possible. A full refund will be issued to you (and the entire group if necessary) should such an occasion arise and are not able to reschedule. Any advanced notification you can provide us with would be greatly appreciated. Mahalo! ***For Manta Tour guests only: Should the rare occasion occur where there are zero manta sightings, you are welcome to come again free of charge. Some restrictions apply and no refunds provided.