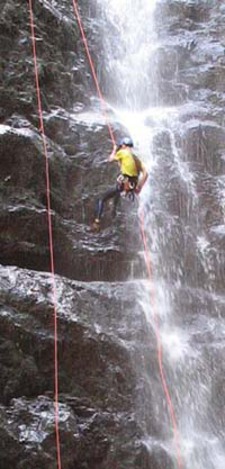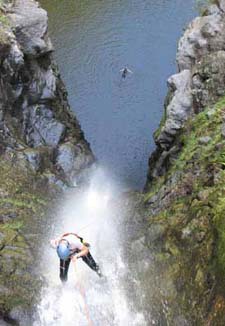 Canyoneer Price:
$520.84
-
Members Price:
$520.84
The Advanced Canyoneering course is designed to give intermediate canyoneers the skills and techniques necessary to travel through canyons rated through 4C in the canyon rating system. It builds on techniques and systems taught in the Technical Canyoneering course.

advanced knots and anchor systems
rigging and using retrievable anchor systems
transient Anchor systems
review of Artifical Anchor systems
advanced techniques for rope deployment
efficient rope management
multi-pitch rappels discussions
sequencing and pre rigged rappels
simul Rappels and special circumstances
combination rappel and passive lower for long drops
advanced rope work for traverses and extremely strong water current
guided rappels, re-belays and deviations
ascending fixed ropes
passing knots on ascend and rappel
strategies for first descents
basics of Mechanical Advantage systems

Located an hour out on the Hana Highway, the course takes place in the Puohokamoa Valley adjacent to the Garden of Eden Arboretum 28 miles from Kahului--half-way to Hana.

DETAILS
There are toilets and changing rooms at our operations center in the arboretum. Please bring a lunch and snacks. We provide all your gear and bottled water.

Accommodation Information:
If you cancel 48 hours or more prior to the date of the event, you will receive a full refund less a 10% cancellation fee. If you cancel within 48 hours for any reason, you will receive no refund, unless we can replace you. If Maui Canyon Adventures cancels (which we may in the event of dangerous weather or conditions), you will receive a full 100% refund. No refund is issued if participants are unable to join the tour at check-in because they don't meet the age or weight requirements. For our 3-day courses, the cut-off period for full refunds is seven days prior to the first class, unless we can replace you. We also guarantee within seven days that the class will take place once we confirm it.