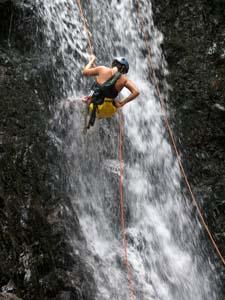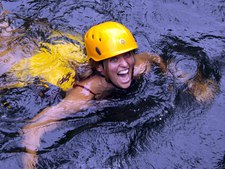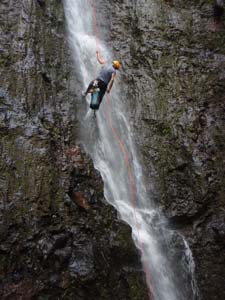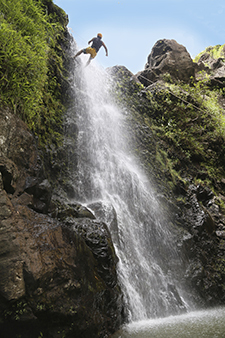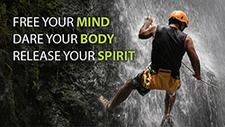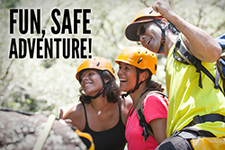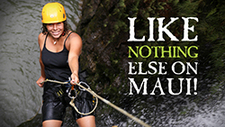 Now you can take the recreational rappelling excitement to the next level with a "zip" rappel in which you explore the jungle canyon from all directions, including a traverse through free space ending in a water landing near the flowing falls.

We rappel in a privately-owned valley located an hour out on the Hana Highway and now you too can see its beauty up close and personal. Because this extended experience features more rappel stations than the Classic Tour, including a unique route that zips down into a natural waterfall pond, it's for those with a bigger appetite for the outdoors. No previous experience is required, but there are special participant requirements.

THE ADVENTURE SUMMARIZED
- Meet your guides at the activity site, halfway down the famed Hana Highway.
- Destination: a 26-acre botanical garden where you gear up in topnotch equipment.
- Hike a short distance on rainforest trails into this private valley where you'll take on 4 rappel events.

EVENTS
1. A 40- to 50-foot practice descent that you can repeat as needed.
2. A guided rappel from the edge of a 50-foot waterfall cliff, and then a zip of 80 feet across the canyon with a "splash down" into a deep freshwater pool.
3. Rappel another waterfall, followed by a 35-foot rock climb directly up the face of the falls (water levels permitting.)
4. Finish with a 110-foot dry rappel down the steep jungle walls of "the savage ridge," or repeat the zip rappel, depending on conditions.

DETAILS
Toilets and changing rooms at the base camp.
All gear (including special footwear) provided.
Individually-wrapped snacks provided.
Bring a mask, a change of clothing and a towel.
Accommodation Information:
If you cancel 48 hours or more prior to the date of the event, you will receive a full refund less a 10% cancellation fee. If you cancel within 48 hours for any reason, you will receive no refund, unless we can replace you. If Maui Canyon Adventures cancels, you will receive a full 100% refund. No refund is issued if participants are unable to join the tour at check-in because they don't meet the age or weight requirements.