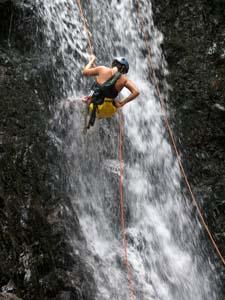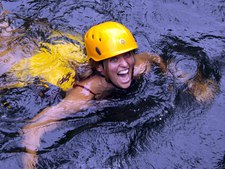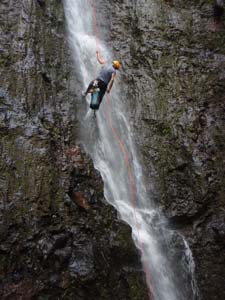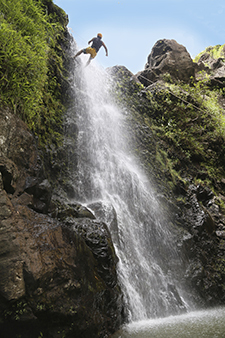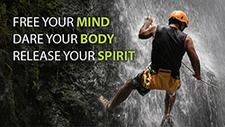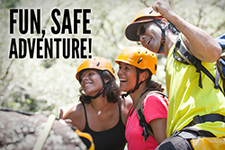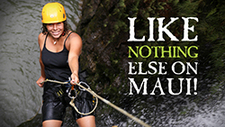 Rappellers Price:
$228.12
-
Members Price:
$228.12
Experience Maui's rainforest from the immediacy of natural jungle cliffs and waterfalls during Maui's boldest and most satisfying adventure. Under the supervision and instruction of expert guides, you'll learn to walk down waterfalls into a private canyon. With a focus on safety, this wild tour is perfect for active families, groups, couples and solo travelers. No experience necessary; beginners welcome.


THE ADVENTURE SUMMARIZED
- Destination: a 26-acre botanical garden where you gear up in topnotch equipment.
- Hike a short distance on rainforest trails into this private valley.
- Training: on a high ridge overlooking the valley the guides give you a "show 'n tell."
- 60-foot dry jungle wall: This is where you learn and practice till you get it right.
- 50-foot waterfall rappel into a deep waterfall pool.
- 30-foot falls, technically more difficult, into a natural waterfall pool.

DETAILS
All gear provided, including special footwear.
Bring a mask, change of clothing and towel.
Toilets and changing rooms at the base camp.
Snacks included.



Accommodation Information:
If you cancel 48 hours or more prior to the date of the event, you will receive a full refund less a 10% cancellation fee. If you cancel within 48 hours for any reason, you will receive no refund, unless we can replace you. If Maui Canyon Adventures cancels, you will receive a full 100% refund. No refund is issued if participants are unable to join the tour at check-in because they don't meet the age or weight requirements.