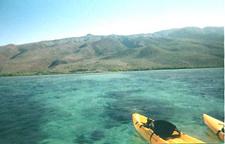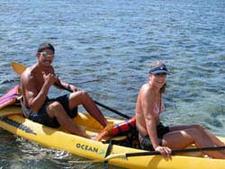 Adult Price:
$95.00
-
Members Price:
$88.35
Child Price:
$49.40
-
Members Price:
$45.94
*********************
Beginner to Advanced
********************

Kayak/SUP 3 miles of Molokai's reef just before sunset
********************
Enjoy the end of the day on the ocean and watch the setting sun while paddling to Hotel Molokai
*********************

The kayaking/SUP can be done for beginners to advanced paddlers. The tour is done inside and outside the reef tide permitting and is one of the safer places to kayak in the State of Hawaii. The kayaks are doubles, Malibu XLs. Singles can be requested at the time of reservation but the experience is needed and based on availability, as we rent those out. SUP boards range from 11.4 to 14.0 depending on experience. Race boards may be requested and the upgrade proceeds go to Youth in Motion.


Depending on weather/tidal conditions we are inside or just outside the reef

Tour hours depend on conditions but on average 1-2 hrs on the water depending on the wind. No matter how long the water time, the experience is incredible and we are about quality time on the ocean.

Meet at Hotel Molokai at 4:30-5 pm at our desk in the lobby of hotel Molokai. Shuttle time from Hotel Molokai to the start is approximately 5-10 mins with a 10-minute safety briefing and what to expect prior to the tour commencing. During the shuttle up to the starting location, customers will get to see the course they will be paddling.

Times will adjust according to sunset times but typically 2 hours before sunset.

Gratuity is not included in this price.



Accommodation Information:
24-hour cancellation policy and 72-hour cancellation for all tours unless we cancel due to weather. A 10% service fee may apply to all reservations canceled 48-72hrs prior depending on the activity. Online discounts are available for advanced bookings