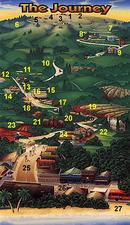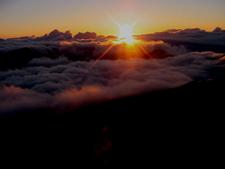 Adult Price:
$248.96
-
Members Price:
$219.00
YOU MUST BOOK YOUR TOUR IN ADVANCE.

The Sunrise Journey is our most popular tour and seating is extemely limited! Your tour begins with hotel pick-up and tour to the Summit of Haleakala. Tour guide will provide you with a history of Haleakala, its geology and an explanation of rare plants and animals only found on Maui.
Upon arrival at the summit you will be escorted by your mountain guides to the rim of the crater where you will view the spectacular sunrise.

Your tour then proceeds to the 6,500 foot level of Haleakala where you will receive a comprehensive safety briefing from Mountain Riders Staff and begin your 26-mile bike ride down the slopes of Haleakala - the world's largest dormant volcano. Your journey proceeds through Haleakala Ranch and continues through the upcountry community of Kula. The ride continues through Makawao Town, riding through sugar cane fields, and continues down to the Pacific Ocean and ending at Paia.

Tour includes beverage service with a light snack (water with an assortment of granola bars) at our base-yard office,helmet and state-of-the-art volcano chrome cruiser bikes.

INCLUSIONS:
• Beverages
• Bottled water
• Snacks (with a no-host meal stop)
• Local guide
• Use of helmet and chrome cruiser bike

Accommodation Information:
Transportation:
No Transportation
Honokowai/Sunrise pick up time
Kaanapali/Sunrise pick up time
Kahana/Sunrise pick up time
Kahului/Sunrise pick up time
Kapalua/Sunrise pick up time
Kihei/Sunrise pick up time
Lahaina/Sunrise pick up time
Makena/Sunrise pick up time
Napili/Sunrise pick up time
Wailea/Sunrise pick up time
Please check this box acknowledging our cancellation policy: Calls received within 48hrs of Tours results in a FULL CHARGE.