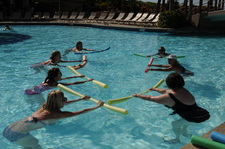 Adult Price:
$0.00
-
Members Price:
$0.00
Child Price:
$0.00
-
Members Price:
$0.00
Fun in the Sun! Join us in the Marriott pool for this lively and low impact cardio workout. The warm waters of the Marriott's infinity pool help to cushion impact on your joints, but the invigorating exercises will get your blood pumping This is one pool party you won't want to miss! Complimentary. 9:30 - 10:30 Every Day!
Accommodation Information:
Cancellation Policy: If you need to cancel your reservation with us, please do so 24 hours prior to your scheduled activity to receive a full refund. If you need to cancel less than 24 hours prior, you'll be charged the full fare. Cancellations on our Catamaran cruises due to weather are at the sole discretion of the Captain. Cancellation terms for blocks or Exclusive Charters may vary as agreed. Cancellations due to COVID-19 symptom presentation will be refunded 100%.