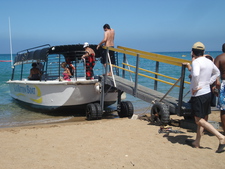 4 Hour Canoe Price:
$1500.00
-
Members Price:
$1500.00
6 Hour Canoe Price:
$2250.00
-
Members Price:
$2250.00
Mahalo for choosing Ocean Sports and our Authentic Hawaiian Outrigger Canoe "Alaka'i" for your exclusive excursion!

Our Ocean Sports guides will share their Culture, and passion for paddling with you on a Hawaiian Outrigger Canoe Excursion! The modern Hawaiian Outrigger Canoe or Wa`a is where ancient Hawaiian Culture and modern technology mix. In ancient days wooden Wa`a were used for transportation, fishing, voyaging and sport for chiefs or Ali`i. Today modern fiberglass design allows for a more stable, performance based canoe, perfect for small groups and families.

Alaka'i holds four passengers plus two guides. All paddlers must be at least 10 years old to participate

Accommodation Information:
Transportation:
No Transportation
Check in A'bay Beach Hut
Cancellation Policy: If you need to cancel your reservation with us, please do so 24 hours prior to your scheduled activity to receive a full refund. If you need to cancel less than 24 hours prior, you'll be charged the full fare. Cancellations on our Catamaran cruises due to weather are at the sole discretion of the Captain. Cancellation terms for blocks or Exclusive Charters may vary as agreed.