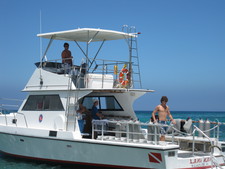 2 Hour Price:
$1875.41
-
Members Price:
$1875.41
3 Hour Price:
$2143.32
-
Members Price:
$2143.32
4 Hour Price:
$2947.07
-
Members Price:
$2947.07
Mahalo for choosing Ocean Sports and the vessel Lani Kai for your exclusive Scuba Dive!
Soon, you'll be strapping on your tank and exploring two of the most unique dive sites in the world. The Big Island of Hawaii boasts crystal clear waters with great visibility, an array of colorful coral gardens, and rugged lava formations. Most of our dives sites classify as shallow reef dives with a maximum depth of 65 feet. Even the most experienced divers can appreciate the unique beauty of our young and growing reef communities.
We'll be departing from the beach at Anaeho'omalu Bay on the vessel "Lani Kai".
Beginning June 1, 2017, the boat will depart from Slip 18 in the South Side of Kawaihae Harbor. Meet us at the Ocean Sports Whale Center in Kawaihae, and we'll escort you to the boat.
If you didn't bring your own gear, we provide Scuba Pro BC's and regulators, masks, fins and wetsuits. If you've brought your own gear and plan to dive more than one day with us, we're happy to store it safely on board our boat.
Accommodation Information:
Cancellation Policy: If you need to cancel your reservation with us, please do so 24 hours prior to your scheduled activity to receive a full refund. If you need to cancel less than 24 hours prior, you'll be charged the full fare. Cancellations on our Catamaran cruises due to weather are at the sole discretion of the Captain. Cancellation terms for blocks or Exclusive Charters may vary as agreed.