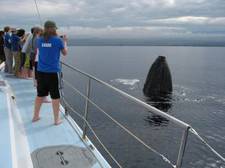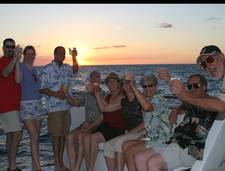 Adult Price:
$106.10
-
Members Price:
$106.10
Child Price:
$53.05
-
Members Price:
$53.05
Infants Price:
$0.00
-
Members Price:
$0.00
Mahalo for choosing Ocean Sports' Sail with the Whales!
We combine real coastal sailing on our legendary catamaran with the biggest party guests of all...the Humpback Whales! We include our complimentary bar featuring tropical cocktails, local beers on tap, tropical juices, soft drinks and even some crunchy snacks Take the helm under the guidance of our expert captains, or relax on deck and let us do the work.
Great fun, and great photo ops! All Ocean Sports Whale Watches include interpretation of the whales' behaviors from our trained naturalists.
Please note, ground transportation is not available for this cruise.
Please note that Humpback sightings on the Sail with the Whales trip are not guaranteed...but we know you'll have a great time!
Accommodation Information:
Transportation:
No Transportation
ABAY Check in 2:30
Cancellation Policy: If you need to cancel your reservation with us, please do so 24 hours prior to your scheduled activity to receive a full refund. If you need to cancel less than 24 hours prior, you'll be charged the full fare. Cancellations on our Catamaran cruises due to weather are at the sole discretion of the Captain. Cancellation terms for blocks or Exclusive Charters may vary as agreed.