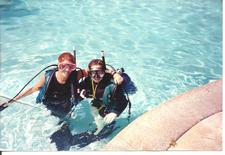 Student Price:
$714.43
-
Members Price:
$714.43
Referral Price:
$529.87
-
Members Price:
$529.87
Learn to dive during your stay on Hawaii's Big Island! This PADI Scuba Certification course introduces the theories of diving, and includes the academic portion of your certification (book work), as well as an interactive pool lesson with your scuba instructor. After testing your new skills in a confined water dive, you will complete two days of diving from our dive boat (2-tanks each day).
Course fee includes PADI Scuba Academic Materials, gear use during the course, boat dives and certification card.
If you've completed your academic and confined water work at home, and just need to prove your skills in open water, you can complete a Referral Course. You'll need to provide your Universal Referral Form (or equivalent) from your instructor at home in order to enroll in this course.
The Referral Course takes place over two days, performing your Scuba skills on 2-tank dives under the guidance of our instructor each day. Upon successful completion of these dives, you'll earn your certification card.
Accommodation Information:
Cancellation Policy: If you need to cancel your reservation with us, please do so 24 hours prior to your scheduled activity to receive a full refund. If you need to cancel less than 24 hours prior, you'll be charged the full fare. Cancellations on our Catamaran cruises due to weather are at the sole discretion of the Captain. Cancellation terms for blocks or Exclusive Charters may vary as agreed.