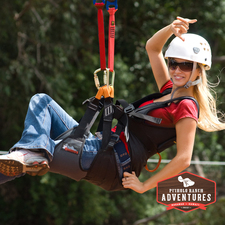 Guest Price:
$145.83
-
Members Price:
$123.96
Kids Free Price:
$0.00
-
Members Price:
$123.96
Walk-Along Price:
$26.04
-
Members Price:
$22.13
Our 4-line zipline tour offers almost 2 hours of thrilling fun as you zip over trees, gulches and green ranchland on the slopes of Haleakala. Going 2 at a time, side-by-side on our dual-line course, you'll zip 4 unique lines ranging from 420 feet to over 1,000 feet long, and at heights ranging from 42 feet to almost 200 feet above the ground! Don't forget to take in the beautiful mountain and ocean views!
Accommodation Information:
Restrictions & Policies: No heart conditions, pregnancies, No scuba diving with 24 hours and No cancellations or reschedules within the 48-hour period prior to activity.