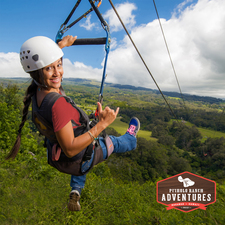 Guest Price:
$171.87
-
Members Price:
$154.68
Kids Free Price:
$0.00
-
Members Price:
$0.00
Walk-Along Price:
$26.04
-
Members Price:
$22.13
Our 5-line tour, almost 3 hours long, will leave you smiling for days! While lines 1, 2 and 3 are the same as on the 4-line tour, you'll head off in a different direction at line 4, zipping down a 1,420-foot line to the base of Piiholo Hill. There a Ranch vehicle is waiting to take you to the top, where you'll enjoy breathtaking 360-degree views of Maui. Your final zip, as you speed down a line more than half a mile long and at times 600 feet high, is a thrilling grand finale to an awesome experience!
Accommodation Information:
Restrictions & Policies: No heart conditions, pregnancies, No scuba diving with 24 hours and No cancellations or reschedules within the 48-hour period prior to activity.