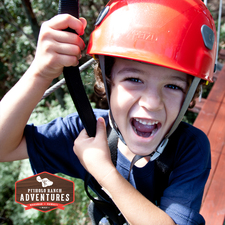 Guest Price:
$140.62
-
Members Price:
$119.53
Kids Free Price:
$0.00
-
Members Price:
$119.53
Our canopy tours have it all: ziplines, an aerial bridge, tree platforms & 2 tree houses to keep you high in the treetops the whole tour. Your first half-hour takes you on a short nature walk (1/4 mile) through the tropical forest, crossing a suspended swinging bridge and learning about native flora and fauna and local history. You will continue your adventure high in the forest canopy, zipping 6 different lines ranging in length from 100 feet up to our longest at 930 feet. KIDS GO FREE!* You must call to book (see below). Zip on 6 different lines high in the tropical canopy. Partway through you'll come to our newest feature, the thrilling "QUICKjump," which gives the sensation of a "free fall" while lowering you to the ground 40 feet below. (Guests may rappel down if they don't wish to jump.) Includes a stop at our tree house for light snacks and refreshments.
Accommodation Information:
Restrictions & Policies: No heart conditions, pregnancies, No scuba diving with 24 hours and No cancellations or reschedules within the 48-hour period prior to activity.