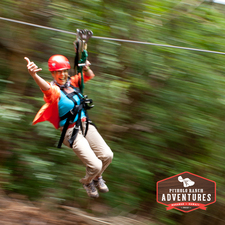 Guest Price:
$151.04
-
Members Price:
$120.84
Our 7 Line Treetop Zip Tour begins as you soar high above the Kahakapao Valley from tree to tree. You will experience a flying sensation as you swoop down into the valley, sail through canopy tunnels, and land at our Pirate Ship Tree House. Your journey features 7 different treetop ziplines ranging from 175 feet to our longest treetop zipline at 930 feet! A grand finale that's sure to give you the thrill you're seeking! Tour is approximately 2.5 hours.
Accommodation Information:
Restrictions & Policies: No heart conditions, pregnancies, No scuba diving with 24 hours and No cancellations or reschedules within the 48-hour period prior to activity.