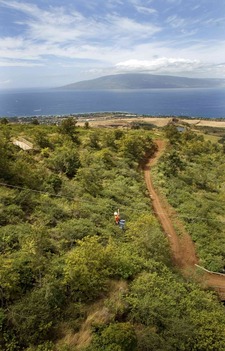 Adult Price:
$156.19
-
Members Price:
$156.19
High above Maui's Ka'anapali resort, amidst the verdant valleys of Mount Kahalawai, an incomparable adventure awaits!

This land steeped in legend, with panoramic views, plunging cliffs, and lush valleys, plays host to a zipline adventure unlike any other in the world. The adventure begins with an exciting off-road drive deep into the rugged and beautiful lands above Ka'anapali. Once there, eight amazing ziplines allow you to soar high above seasonal streams as you experience this piece of wild Hawaii. From mountain to sea this inaccessible world, just minutes from Ka'anapali, is now within reach.

Come with us on this afternoon adventure, and learn about Maui's rich history and biological diversity. Overlooking the Kingdom of Hawai'i's former capitol, you will experience a perspective that takes you back in time where you can envision the story of Hawai'i unfolding before your eyes. See the islands as you never have before and take part in what is being called "Hawai'i's best all around adventure".