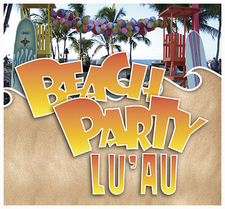 Day Price:
$5550.00
-
Members Price:
$5550.00
Fun in the sun in Hawai'i definitely includes a Beach Boy luau. Bright colors, lifeguard stands, aloha print and surfboards create a perfect backdrop for beach boy music, keiki (children) hula and lots of interactive entertainment.

- Beach Party Table Decor for 45 tables
- Beach Boy Surfboard backdrop 20 ft wide
- Beach Boy Life guard stands (2)
- Colorful lanterns hanging over event area
- coconut Frond Fish maker- activity for families
- Hula Lesson instructor
- 8-10 Keiki Greeters to welcome guess
- Beach-Boy Hula Bash Cast of 16 to includes Beach boy band, 8 dancers, drummers, emcee, and fire-dancer.