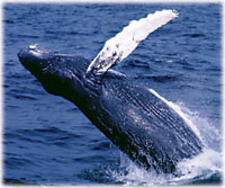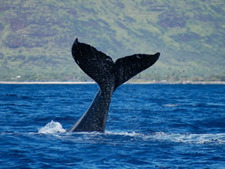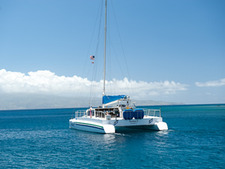 Adult Price:
$66.45
-
Members Price:
$66.45
Teen (13-20) Price:
$55.75
-
Members Price:
$55.75
Child (3-12) Price:
$45.00
-
Members Price:
$45.00
Infant (0-2) Price:
$34.29
-
Members Price:
$34.29
-See the whales up close in their natural habitat
-Marine naturalist on board to educate and inform
-Watch for thrilling breaches and tail slapping

Each year the Pacific Humpback Whales migrate from Alaska to the coastal waters off Maui. Being on board one of our spacious catamarans is the best way to experience these gentle giants and the surrounding beautiful West Maui scenery. Our trip includes a full continental breakfast which features island fresh fruit, breakfast breads, tropical juices, coffee, hot chocolate, sodas and our exclusive Teralani "POG"mosas & "Bloody Maui's". Please have all guests 21 years and over bring valid picture ID. Make this an exciting learning experience with a marine naturalist on board each trip. You will actually be able to listen to the whale songs live on our under water hydrophone.

The whales are not the only return visitors you may see while on the AM Whale Watch. There are many of our guests that return year after year, always being sure to include Teralani on their 'must do' list!

Advance reservations are recommended, as this most popular experience sells out very quickly.

-"Beach Boarding" (you may get wet)
-Barefoot Charter (shoe bins will be provided for shoes and sandals)
-Dress is casual to beach attire
-Long dresses or slacks are not recommended as they may get wet during boarding
-Bring Sunscreen, Light cover-up
If you plan on bringing cameras, cell phones or any electronic device make sure to bring some type of waterproof protection.
Onboard Ship Store: Hats, T-shirts and waterproof cameras for sale.
Children under 16 must be accompanied by an adult. 16 and 17 year olds who wish to go alone must have a parental waiver.
HIGH SURF: During high surf there are times that we can not bring the catamarans to the beach for boarding and must load via our Rigid-Hulled-Inflatable-Boat (RHIB). The opportunity for getting wet is greater with this type of boarding, so it's very important that all electronic equipment is protected.
Within walking distance from Ka'anapali hotels.
Crew gratuity is not included, and is at the guest's own discretion and expense.