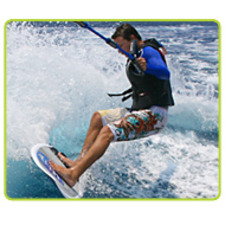 -1 Hour (max 6 passengers) Price:
$214.33
-
Members Price:
$182.18
-2 hour (max 6 passengers) Price:
$428.66
-
Members Price:
$364.36
Half Day (max 6 passengers) Price:
$791.96
-
Members Price:
$673.17
We leave Ka'anapali Beach at a time you specify and head south to enjoy the beautiful waters around west Maui.If you opted for the wake sports upgrade we will break out the toys and teach you how to use them. If not we can take you to a number of great snorkel spots full of turtles. If you have done this before, you can just go for it. But don't worry if you are a beginner. Our experienced instructors will show you the ropes. Most people like this trip because you're away from the crowds and really have time to relax and take advantage of all the different toys we provide. All our trips are private charters. Maximum passengers 6 guests. The fees are $200/hour (+tax), with a savings if you book for 4 hours (Half Day). A small price to pay to know that if you do have to listen to excited screaming kids, at least they'll be your own! Water,Soda and instruction included.
Accommodation Information:
Notification of cancellation must be received by phone at 808.269.5645 at least 48 hours prior to the scheduled tour departure time. Parties adhering to this policy will receive a full refund. Any notice given with less than 48 hours remaining before the tour departure time will NOT be considered valid and NO refund will be offered.