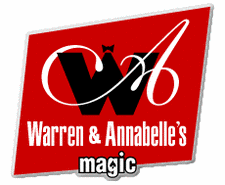 Admission Price:
$87.50
-
Members Price:
$87.50
For the first time ever, through the magic of Zoom, Warren & Annabelle's is coming directly into your home! Gather your family and friends for an evening of live, fun-filled, amazing magic and comedy!

We've heard from so many of you that you are missing Maui and a magical night out at Warren & Annabelle's… So, we're coming to you! Our show is going virtual and LIVE, featuring our world-class performers interacting with you, our home audience, in real time on Zoom. Just like our sold-out shows on Maui, each Zoom show includes unbelievable mysteries and miracles. Be prepared to participate - magic will even happen right in your own hands!

As always, our show features only clean material. In fact, for the first time in history, the Warren & Annabelle's show is available to all ages! (Recommended age – 12+)

What you Need to Know:

• Warren & Annabelle's will use the Zoom video platform.
All screens will need to be in "Open Video Mode"

• If you're new to Zoom, create an account here: Create Zoom account.

• Audiences will be requested to "check-in" to their show 30 minutes ahead of show time. You may have the opportunity to interact with our performers. Please be prepared to share your video at all times.

• Exclusive Private Shows for Corporate Groups are available.
Contact Lisa Gibson for more information at: Lisa@WARRENandANNABELLES.com


SHOW TIME: 6pm PST
Check-in time: 30 minutes prior to show, and no later than 5:45pm PST
Length of Show: 1 hour and 15 minutes
No late arrivals please

Cancellations/Refunds
No cancellations or refunds for virtual shows.

Accommodation Information:
24-hour notice is required for cancellations or reschedules for parties of 1-9 guests; 72-hours notice is required for parties of 10-19 guests. For Groups of 20 or more, a minimum of 7 days is required for cancellations. See Group Event Contract for specific cancellation policy for your group.