Phone: 808-593-2822
Toll Free: 800-824-8804
Year Established: 1974
Exciting Oahu Tours to Pearl Harbor, Dole Plantation & Polynesian Cultural Center

E Noa Tours offers the best in Oahu visitor experiences. Come let us show you our island paradise!

With over 30 years of experience offering the most exciting Oahu tours, E Noa Tours would like to invite you to join us for the best Oahu has to offer. Come with us for our Pearl Harbor Tour. With packages that combine USS Arizona Tours along with the USS Missouri tour, and more. We offer multiple Oahu tour combinations designed to let you experience Hawaii's intriguing history and beautiful scenery.
ACTIVITIES:
Begin your day with a visit to the USS Arizona Memorial where you'll have an opportunity to view the documentary film that provides an important part of American history at Pearl Harbor and the USS Arizona. A visit to the memorial itself is included right after the film.

Thereafter, enjoy a sightseeing journey to Oahu's famous North Shore with brief stops at Dole Plantation and Sunset Beach.

Following that, enjoy a guided tour through the Polynesian Cultural Center that showcases seven Polynesian villages. A dinner buffet and the new evening show, "Ha" ("Breath of Life") is included.

Tour Stops:

This tour stops at the following places:

USS Arizona Memorial & Visitor Center
USS Arizona Memorial
Pearl Harbor Visitor Center
Dole Plantation
Sunset Beach at North Shore
Polynesian Cultural Center - includes general admission, dinner buffet and the new evening show,
'Ha" ("Breath of Life") - A $60.00 value!

This tour drives through the following places:

Coffee and Pineapple fields
North Shore organic farms
Waimea Beach

Note: The above lists are the "basic minimum" stops and drive-throughs that our tour guides do for this tour. Your tour guide will most likely add more stops depending on his/her narrative and if there are interesting scenes along the way, such as turtles and/or seals.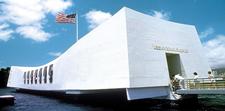 Experience the emotions of December 7th, 1941 -- "the date which will live in infamy". Relive the terror of the surprise attack through a powerful film. Visit the men of valor in their final resting place and find Pearl Harbor survivors sharing their experience of that ill-fated day. An unforgettable experience for all!

Tour Stops:

This tour stops at the following places:


USS Arizona Memorial
USS Arizona Visitor Center

Cancellation Policy: Please check this box acknowledging our cancellation policy: 24 hour notice necessary prior to activity date for a full refund.