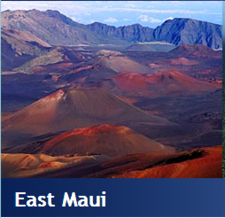 Passenger Price:
$272.50
-
Members Price:
$245.25
Lap Seat Price:
$0.00
-
Members Price:
$0.00
Air Maui's Hana/Haleakala Tour is a 45 minute journey to some of the most requested sights on the East side of Maui.

Haleakala Crater, Lush Tropical Rainforest's of Hana, deep valleys and spectacular waterfalls are some of the sights you will see. The aerial views you will get is unlike any you will get from your road travels. Great picture opportunities!

The best 45 minutes you can spend on Maui!