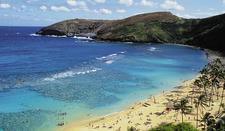 Adult Price:
$109.74
-
Members Price:
$109.74
Child Price:
$84.71
-
Members Price:
$84.71
Lap Child Price:
$0.00
-
Members Price:
$0.00
Come with us on an authentic adventure and discover all of Oahu's majestic grandeur. Be captivated by the unique beauty and the dramatic history found at every turn. (We will handle all the admissions fees, so no worries.)

Available Daily. 7:30AM - 5:30PM

Stops and sites on the Majestic Circle Island Tour may include:

*Diamond Head Slopes and Kahala
*Hanauma Bay Lookout (Closed every Tuesday)
*Halona Blowhole and Lookout
*Oahu's Eastern Shoreline
*Sandy Beach, Makapu'u Lookout, Waimanalo Hawaiian Homestead
*Nu'uanu Pali Lookout
*Ancient Hawaiian Battle Site
*Byodo-In Temple & Valley
*North Shore Surfing Beaches and Ko'olauloa Coastline
*Lunch stop en route. Meal purchase on own.
*Waimea Valley guided by E Noa Driver
*Cultural Sites and Waterfall
*Dole Plantation Visitor Center

*Tour may be driven either clockwise or counterclockwise.
*Driver reserves right to adjust route for maximum visitor enjoyment and safety.
*Be ready for spur-of-the-moment stops, unexpected views and special sightseeing along the way!