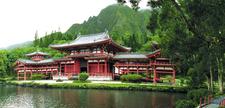 Adult Price:
$132.46
-
Members Price:
$132.46
Child Price:
$101.36
-
Members Price:
$101.36
Lap Child Price:
$0.00
-
Members Price:
$0.00
Come with us on an adventure and discover all of Oahu's majestic grandeur. Be captivated by the unique beauty and the dramatic history found at every turn.

History comes alive before your eyes as you weave up the Koʻolau Mountains to the Nuʻuanu Pali Lookout where King Kamehameha I battled to unite the Hawaiian Islands. Shortly after, gaze at the beautiful Byodo-In Temple, a replica of the Byodo-in Temple in Japan, that was built to commemorate the 100-year anniversary of the first Japanese immigrants in Hawaiʻi.

Cruise along seven miles of world famous surfing beaches on Oahu's North Shore, and sample the local flavors along the way.

Waimea Valley and waterfalls await you, steeped with history, spirituality and island traditions. Your E Noa guide will take you through the botanical gardens of this vast and tranquil setting. Learn how deeply embedded tradition is in today's Hawaiian culture.

Around the corner is the Historic Dole Plantation surrounded by rows of pineapple and fields of sugarcane. Your E Noa guide will share the rich plantation history and describe how this famously sweet plant became a symbol of Hawaiʻi.

Fasten your seatbelts for an amazing excursion that will leave you brimming with the Aloha Spirit!