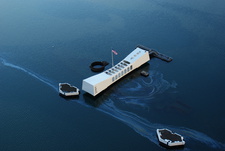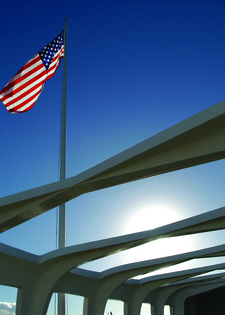 Adult Price:
$46.07
-
Members Price:
$46.07
Child Price:
$35.60
-
Members Price:
$35.60
Lap Child Price:
$0.00
-
Members Price:
$0.00
Available Daily ~ Pick Up via Waikiki Trolley Open-Air Trolley 9:45AM-10:05AM ~ Return approx. 2:30PM

Stand at ground zero of the infamous attack and gaze up at a sky once filled with enemy planes. This is the place where history was made.

The E Noa Salute To Pearl Harbor Tour immerses you in the sights, sounds and personal stories of the world-changing events of Pearl Harbor, December 1941. This is the way to see Pearl Harbor; with a knowledgeable E Noa guide who provides helpful insight and information, fascinating historical and cultural background-with the ease of transportation and a tour package that includes everything you need to visit the WWII Valor of the Pacific Monument and the USS Arizona Memorial.

Upon picking you up, your E Noa guide begins to share local stories and interesting bits of history-setting the scene of that fateful day in December 1941-as you head towards Honolulu's Pearl Harbor. Soon, you arrive full of anticipation at one of Oahu's most famous destinations.

You feel the site's power as you enter the new Pacific Historic Parks Pearl Harbor Visitor Center. Here you revisit the past through never- before-seen artifacts, replicas and media displays that explain the events and details of the day leading up to and following the Pearl Harbor attack. Looking across the harbor's blue waters at Ford Island, the center of the attack, you imagine the residents waking up on a Sunday morning to chaos and madness.

Traveling across the harbor by shuttle boat, and then standing in reflection on the USS Arizona Memorial, you pause in tribute to those who lost their lives that day. This graceful monument built over the remains of the sunken ship provides a moving balance of life and death, as you spot green sea turtles and colorful fish swimming in the active reef around the Arizona, even as it serves to memorialize those entombed below.

A boat trip across the harbor and perhaps a chance to meet a survivor of the attack complete your morning at the Memorial.

Stops and sites on the Salute To Pearl Harbor Tour may include:
*Pearl Harbor National Memorial
*USS Arizona Memorial

Attire: Dress comfortably but please remember that shirts and shoes required on the USS Arizona Memorial; swimsuits not permitted.

**Security restrictions at Pearl Harbor will be enforced. Please do not bring large bags or anything that could offer concealment. Storage is available at Pearl Harbor for $6.00.

FREE pick-up via Safe, Open-Air, Waikiki Trolley at the Ilikai Hotel, T Galleria by DFS, Trump Hotel, Duke Kahanamoku Statue and Aston Waikiki Beach Hotel.