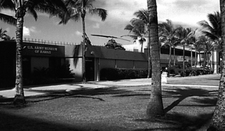 Free Price:
$0.00
-
Members Price:
$0.00
Helicopters, tanks, guns now silenced, and vacant bunkers welcome you to the U.S. Army Museum of Hawai'i. Once a bastion built to protect Hawai'i from invading forces, the structure now houses a Museum that tells the military story of Hawai'i, from ancient times to the Gulf War and the War in Iraq. Each of these hostilities is covered graphically in separate displays with photographs and sound effect creating a real "you were there" experience.

Located on the grounds of the Hale Koa Hotel and the Ft. DeRussy Recreation Center.

Open Tuesday - Saturday from 9:00 AM until 4:45 PM. Admission is FREE however donations are always welcomed and appreciated.
Audio Tours are available for rent at $5 each ($2.50 for Society Members)

Parking:We validate parking for the US Army Museum of Hawaii @ Fort DeRussy Parking Facilities. With validation the fee is:
$2.00 for the first hour (or fraction thereof)
$1.25 for each additional hour (or fraction thereof)
Please present your Parking Ticket to the receptionist for validation.