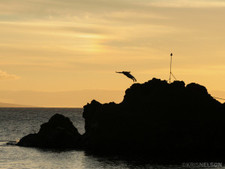 Free Price:
$0.00
-
Members Price:
$0.00
As the sun begins to set, the time honored tradition of Maui's Chief Kahekili's leap of spiritual strength begins. Legend tells us that the last Chief of Maui proved his spiritual stength by leaping off of the sacred Pu'u Keka'a, Black Rock, into the waters below.
Since the opening of the Sheraton Maui in 1963, this nightly ritual has taken place everyday at sunset on the World famous Kaanapali Beach, Maui.
FREE to the public, this time honored tradition begins with a native Hawaiian Chant, the blowing of the conch announces the young diver's arrival. He will slowly make his way to the top of the cliff lighting torches along the way. Watch the diver offer his torch and a flower lei to the ocean, before taking his plunge into the waters below.

FREE daily on the shores of Kaanapali Beach, Maui at sunset.