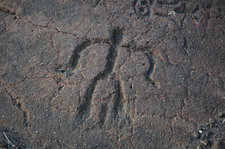 Free Price:
$0.00
-
Members Price:
$0.00
Ancient Hawaiians called their stone art - Ki'i Pohaku: stone art. The Puako Petroglyph is home to one of the most extensive petroglyph fields in Hawaii and feature thousands of images. Families, marchersm dancers, even dogs, chickens, and deity's. A great activity to see with the entire Ohana (family).

Located on the Kohala Coast near the Mauna Lani Resort, there are over a thousand Ki'i Pohaku (petroglyphs) dated back centuries ago. These carvings date back centuries ago and are very culturally significant to the Hawaiian culture. Please visit with the site with the utmost respect.

The field of petrogylphs can be accessed from the Holoholokai beach park in Mauna Lani Resort to the south of Puako. The park can be accessed either by going through the Mauna Lani resort, or via the Puako beachfront southwards from Paniau (utility pole 143) at the south end of Puako road. There are restrooms and shower facilities here.