Phone: 808-879-8188
Toll Free: 800-736-5740
Year Established: 1984
Snorkel Molokini Crater, Coral Gardens, dolphins, family fun, whalewatching, thrill-seeking adventure... Choose the perfect Maui snorkeling trip today! Aloha! Welcome aboard Maui Classic Charters and get ready for some classic FUN! We are proud to be one of the top snorkel charter companies in the state of Hawaii. You are invited to experience the very best snorkeling tours that Maui has to offer. We provide you with the snorkeling trip of a lifetime to some of Maui's premier snorkeling destinations like Molokini Crater and Coral Gardens. Maui Classic Charters is an adventure snorkel charter boat company that operates on Maui. We are a favorite with the visitors, and also Hawaii residents, and have been taking passengers to the most popular snorkeling destinations for more than 30 years. We have a fleet of two unique boats, The Four Winds II (a sail-assisted power catamaran) and the Maui Magic (a super-fast power catamaran), and a crew that is second-to-none! These boats visit multiple snorkel destinations and offer a variety of cruises. Our pledge is to make your visit to Hawaii truly memorable. Whether it's our classic morning Molokini snorkel trip aboard the Four Winds II, our Adventure Snorkel tour with the Maui Magic, the popular afternoon Molokini Crater or Coral Gardens snorkel cruise, or our seasonal whale watching trips, you will discover why so many visitors continue to choose Maui Classic Charters year after year.
ACTIVITIES:
5 hour snorkel trip that's perfect for the whole family!
Longest Time at Molokini -
WaterSlide -
Spacious & Stable Catamaran (55 feet long) -
Large Indoor Galley and Upper Deck -
Underwater Glassbottom Viewing Room -
Tropical Breakfast -
Hot Barbeque Lunch -
Complimentary Sodas, Juice, Beer & Wine -

See Turtles Year Round - Whales During Season -
Optional SNUBA, Cameras & DVD of your trip -
Friendliest and most helpful crew around!

3 1/2 hour PM trip that's perfect for the late sleeper!
Complimentary Beer & wine (after snorkeling),Sodas, and juice
Spacious & Stable Catamaran (55 feet long)
Large Indoor Galley and Upper Deck
Underwater Glassbottom Viewing Room
Water Slide
Optional Hot-off-the-Grill Barbeque Lunch for $8.50
Optional SNUBA, Cameras & DVD of your trip -
Friendliest and most helpful crew around!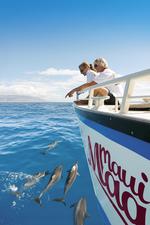 Due to her unique design, the Maui Magic has a wide choice of locations she can access. Unlike other boat trips that only have one or two spots that they can visit, the Maui Magic gets to explore a lot more of the coastal waters around the island. We get to see amazingly-beautiful tropical fish, colorful corals, Green Sea Turtles and even seasonal Humpback Whales! And, along the way, you get to explore Maui?s dramatic coastline that only a few boats travel to.

We first serve you a continental breakfast featuring: muffins, fresh tropical fruit, Kona coffee and juices.

Once we get to our second snorkel site, the crew fires up the barbeque for a delicious hot-off-the grill lunch. Your choice of hamburgers, veggie burgers, hot dogs, chips and cookies. We feature an open bar of beer, wine and sodas.

All of your snorkel gear and instruction are provided. Disposable 35mm underwater cameras are available for purchase and optional SNUBA dives are available.
Cancellation Policy: Full refund if we receive notice of cancellation or rescheduling at least 24 hours prior to trip so that we can sell your seats. In the event of illness, we do require a Maui doctor's note for a refund. Wind & water conditions will dictate our snorkel site - Molokini or Coral Gardens.