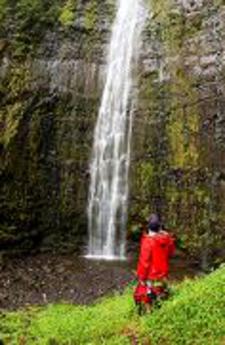 Annual Pass Price:
$25.00
-
Members Price:
$25.00
Per Vehicle Price:
$20.00
-
Members Price:
$20.00
Motorcyle Price:
$15.00
-
Members Price:
$15.00
Pedestrian Price:
$10.00
-
Members Price:
$10.00
The most common activities for those visiting the Coastal Park are:
- Hiking
- Swimming in Pools & Waterfalls
- Camping

This area's proper name is Ohe'o Gulch. It used to be called the Seven Sacred Pools, due to the series of waterfalls and pools descending from Haleakala to the ocean. The name, Seven Sacred Pools, is no longer considered appropriate as there are many more than seven pools and culturally the area is not known as sacred. It is significant for sure and one of the most beautiful places on Maui.

One only has to hike about 5 minutes for the best view of the pools. This is nice after you've completed the 2-4 hour, 52 miles (from Kahului) legendary road to Hana, with 620 curves and 59 often one lane bridges.

When there is no threat of flash floods, swimming in the pools is magical! Bring a swim suit & towel, just in case. There is also a 4 mile, round trip, hiking trail across the street, Pipiwai Trail. Bring sun and rain protection, water, food, and wear sturdy, close-toed shoes.

This trail winds through a freshwater stream and diverse forest areas with views of waterfalls and other natural features. People often feast on the strawberry guavas which grow wild along the trail. This is moderately strenuous with an 800-foot elevation change each way.

A Ranger guided hike is offered weekly at 10:00 am on Sunday along this trail. It is offered on a reservation basis. Call 808-248-7375 for reservations, must be one week in advance.

If driving yourself, stop along the way. There are many places & sites to visit along the road. Here's a great article on this drive (http://hawaiiattractions.com/2015/08/20/going-hana-maui/). If you would rather sit back and let someone else drive, consider one of the many guided tours companies which feature this destination.

There is a road to the south that you can take to get to Kipahulu. However, several miles of the road is "rough and unpaved". Rental insurance doesn't cover you on that road, so we didn't risk it, but if you have a good four wheeling jeep or something you may want to try it! Going this way you'll come out upcountry at the only winery on Maui, Maui Wine.

The Park, including Restrooms, is open 24 hours a day, seven days a week, except when the park is closed during severe weather events. Please check park alerts on their website for information on closures.