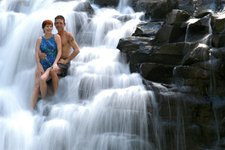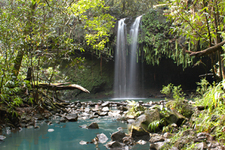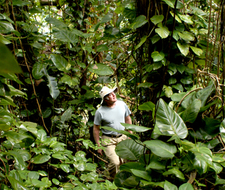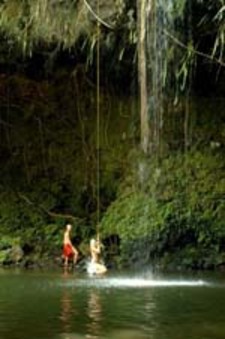 Hikers Price:
$207.29
-
Members Price:
$197.29
It's unusual for a rain forest valley to have this many waterfalls close together, so this is a popular spot on Maui's famous Hana Highway. But, since we know the owners well, we're the only tour company allowed in the valley. We hike 2.5 miles round trip to four or five waterfalls from 10 to 40 feet high. Great waterfalls, big, clear swimming pools, terrific bamboo and tropical rain forests, fresh-water streams. You may even jump off rock cliffs into the pools. It's fun and it's beautiful. And the waterfalls can't be beat.

>>> SUMMARY <<<
- 2.5 miles round trip
- moderate for some; easy for most
- very popular valley on famous Hana Highway
- five waterfalls 10 to 40 feet high
- rope swinging into two pools
- jumping off rock cliffs from 5 to 15 feet
- We are the only tour company allowed in the valley.

>>> DETAILS <<<
Meet in Central Maui at 9:30 a.m., then ride with us a half-hour to the trail. Return at 2:30 p.m. Price $120.

Optional resort transfer with pickups from 8:00 a.m. to 8:45 a.m., depending on the distance from Kahului. Return at 3:00 to 3:30 p.m. Price $140 plus tax.

Private hikes are available. We also can make special arrengements for large groups. Please call or email us for rates and details.

Minimum age 6.

>>> CREDENTIALS <<<

Hike Maui is the oldest, most experienced hiking company in the state - celebrating 28 years (since 1983) of award-winning adventures. In the annual Maui News business competition, we were awarded Maui's Best Eco-Friendly Company designation for 2009. For 2010 the Hawaii Eco-Tourism Association chose us as the EcoTourism Operator of the Year.

We are renowned to have the most thorough training on Maui, and our guides are considered the best. They are naturalists who weave geology, botany, ethnobotany, Hawaiian culture and history into the fun of hiking and swimming. Our guides are certified in water safety, Wilderness First Aid and professional CPR.