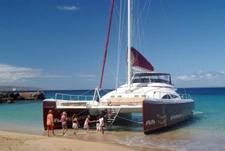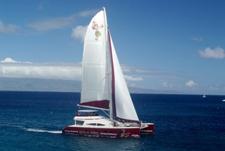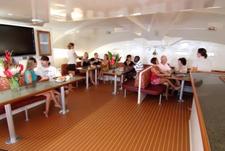 Adult Price:
$115.02 ($120.02 after 12/20/2023)
-
Members Price:
$115.02 ($120.02 after 12/20/2023)
Child Price:
$102.88 ($107.88 after 12/20/2023)
-
Members Price:
$102.88 ($107.88 after 12/20/2023)
Infant Price:
$66.08
-
Members Price:
$66.08
** Available During Whale Season - Tuesday, Wednesday,Thursday, Friday, Saturday and Sunday ** PLEASE CALL FOR DEPARTURE TIMES AND LOADING LOCATION 808 665-0344 (changes seasonally)

This is the perfect choice for an upscale dinner cruise at incredibly reasonable prices with whale watching. The focus of this excursion will be whale watching in the calm waters of West Maui while enjoying mouth watering cuisine prepared on-board by our talented chefs! Choose from our extensive appetizers, entrees or try the Chef's fresh fish special. Finally Maui has a Whale Watch Dinner Cruise with truly world class cuisine.

A top shelf selection of tropical cocktails, fine wines, and imported beers are available for purchase from $5 to $12.00. For wine lovers a bottle of fine wine only costs $25.

Dine in air-conditioned comfort in the spacious Main Salon with granite tables and cushioned seating.

Please call for check in and boarding times. Check in 15 minutes prior to charter time at the Whalers Village Shopping Center beach front in Kaanapali Beach. All sails are barefoot cruises and shoes will be collected prior to boarding and will be stored onboard. We recommend wearing shorts for beach boarding and bringing a light jacket for evening events. We reserve the right to relocate to boarding at the Mala Boat Ramp if surf prevents us from safely beach loading.

Please call our reservation service upon arrival in Maui to reconfirm check in time and location @808 665-0344 or 667-5980. Please note your credit card is a guarantee only. Your excursion will be added to your food and bar tab onboard and charged at the end of the cruise.

Hula Girl and it's professional crew await the pleasure of your company.
Accommodation Information:
Check here acknowledging our Non-Refundable Cancellation Policy: 24 hours from check in for full refund.