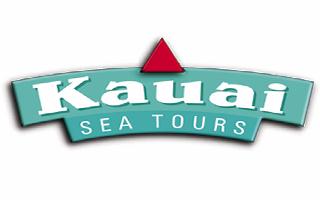 Phone: 808-335-5309
Toll Free: 800-733-7997
Year Established: 1998
Reserve direct online @ www.kauaiseatours.com to save! Join Kauai Sea Tours on a your choice of either an exciting raft excursion under waterfalls, into sea caves, land on a secluded NaPali coast beach for an exploration of an ancient Hawaiian village. Or choose our deluxe catamaran tours for snorkeling and sunset dinner cruises. Voted Best of Kauai - Best boat tours 2004 & 2005 & 2006 & 2007. We welcome you aboard with Hawaiian hospitality.
ACTIVITIES: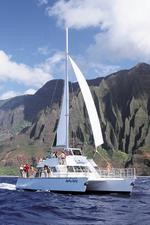 Na Pali sightsee snorkel on our custom designed 60ft. vessel. Encounter playful spinner dolphins, Humpback whales
(seasonal Dec. -Apr.) and sea turtles as you take in the beauty along Kauai's spectacular coast. Complete with history & legends of Hawaii and snorkeling* conditions permitting. The water slide is fun for all ages and guests can rest on the convenient swim platform. Start your day off with a continental breakfast of fresh baked pastries, fresh fruit salad, juice and coffee. A deli buffet lunch of assorted fresh baked rolls, breads, turkey, ham and cheeses, pasta/vegie salad, fruits, condiments, great homemade cookies. Soft drinks, ice water available all day and beer, wine & Mai Tai's served after water sports to adults with I.D. proof over 21.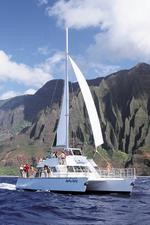 This 5-hour cruise to Na Pali when the afternoon light brings a special magic to it. Friendly, professional staff share history of old Hawai'i, encounter dolphins, enjoy snorkeling - conditions permitting - gear & instruction included. A 3-course dinner with appetizer of fruit, cheese, salami, crackers, pretzel snacks, tossed green salad, teriyaki chicken, rice, fresh vegetable stir-fry, dinner rolls, pineapple spears,& cookies. Beverages include soft drinks, iced water, domestic & locally-brewed beers, wine & Mai Tais. Alcohol is served after water sports with ID required. A romantic Hawaiian sunset tops off a perfect day.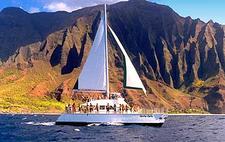 3 1/2 - 4 hrs. of cruising on Napali when late afternoon light brings a special magic to Na Pali. History & legends, sightseeing, dolphin and whale encounters (in season) Enjoy a hot casual dinner buffet of teriyaki chicken, bbq beef, asstd. salads, rolls, rice, fresh fruit. Iced water, soft drinks and beer, wine and Mai tai's served while we enjoy the sunset.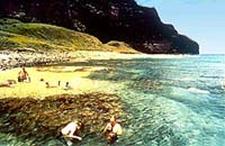 Reserve IN real time at www.kauaiseatours.com and save on our BEACH LANDING NA PALI RAFT ADVENTURE. We take a limited # of passengers to the secluded beach site of the ancient Hawaiian village of Nu`alolo kai when conditions permit generally April-Oct.
This is the ultimate adventure for an up close, fun exciting, unique and educational experience. It will WOW you!
Our rafting tours explore the nooks and crannies of Na Pali in all of its majesty! Venture into sea caves and under waterfalls when ocean conditions permit, encounter lots of playful dolphins, sea turtles, colorful tropical fish.
The beach landing at Nualolo Kai (on NaPali), is the site of an ancient Hawaiian settlement which has been called one of the most significant archaeological site in the state. Our crew will take you on a guided narrated hike on the trail into Hawaii's past. After the walk enjoy a hearty beach picnic lunch and suit up for snorkeling at the best reef on Na Pali(the Hawaiians had a fishing village here for a very good reason- lots of fish!). All the snorkel gear and instruction is included and this wonderful reef is perfect whether you're an experienced snorkler or just beginning to learn.

This is the ultimate Na Pali coast adventure tour and we LAND YOU RIGHT ON THE BEACH don't be fooled by others who try to imitate us, we've traveled this coast on rafts for over thirty years, could say we wrote the how to book on rafting NaPali!
Reserve real time @ www.kauaiseatours.com to SAVE on this Raft adventure tour to Na Pali 5 hrs. This up close & personal experience is highlighted again as you encounter dolphins, sea turtles, whales(in season) and other marine life. This trip is for the physically active thrill seeker, naturalists and outdoor enthusiasts. Dry bags are provided for packs and cameras. View pristine beaches, lush valleys, sea caves (entered when the ocean permits), cascading waterfalls. Our friendly crew and captain will share stories and history of this once inhabited coastline. The raft stops to snorkel at the reef off of Nualolo Kai the best snorkeling on the coast. Go places and experience the coast like no larger vessel can but be prepared for a physical adventure. The half day raft tour includes snorkeling gear and instruction, a gourmet deli lunch and cold soft drinks. An excellent opportunity to encounter dolphins and whales eye to eye at times.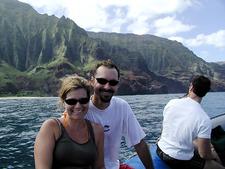 This exciting up close personal sightseeing adventure tour occurs during the perfect time of day for photography of the majestic Na Pali coastline. Our captains will highlight your tour with history & legends of Na Pali and interpretive whale watching. Encounter these amazing mammals and thrill to the sight of their friendly acrobatic behavior. Whales enjoy watching us as much as we enjoy watching them so it isn't uncommon to find yourself eye to eye to one of these amazing creatures. A sight you will always remember and one we enjoy time after time year after year. Don't miss them during your stay. This tour operates during whale watching season Dec. thru May.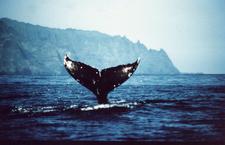 2 - 3hr. exploration of Kauai coastline in search of the amazing Humpback whales. Educational discovery tour teaches passengers about humpback whales.
Cancellation Policy: check this box to acknowledge our cancelation policy which is Tours canceled within 48 hrs. of tour date will be charged a 50% service fee. No Shows charged 100%. Group charters require a 50% deposit charged one week prior.