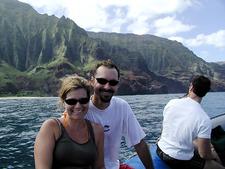 Adult Price:
$156.76
-
Members Price:
$156.76
Child (7-12) Price:
$135.14
-
Members Price:
$135.14
This exciting up close personal sightseeing adventure tour occurs during the perfect time of day for photography of the majestic Na Pali coastline. Our captains will highlight your tour with history & legends of Na Pali and interpretive whale watching. Encounter these amazing mammals and thrill to the sight of their friendly acrobatic behavior. Whales enjoy watching us as much as we enjoy watching them so it isn't uncommon to find yourself eye to eye to one of these amazing creatures. A sight you will always remember and one we enjoy time after time year after year. Don't miss them during your stay. This tour operates during whale watching season Dec. thru May.
Accommodation Information:
check this box to acknowledge our cancelation policy which is Tours canceled within 48 hrs. of tour date will be charged a 50% service fee. No Shows charged 100%. Group charters require a 50% deposit charged one week prior.