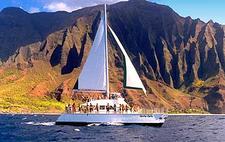 Adult Price:
$167.57
-
Members Price:
$150.81
Child (7-12) Price:
$145.95
-
Members Price:
$131.35
3 1/2 - 4 hrs. of cruising on Napali when late afternoon light brings a special magic to Na Pali. History & legends, sightseeing, dolphin and whale encounters (in season) Enjoy a hot casual dinner buffet of teriyaki chicken, bbq beef, asstd. salads, rolls, rice, fresh fruit. Iced water, soft drinks and beer, wine and Mai tai's served while we enjoy the sunset.
Accommodation Information:
check this box to acknowledge our cancelation policy which is Tours canceled within 48 hrs. of tour date will be charged a 50% service fee. No Shows charged 100%. Group charters require a 50% deposit charged one week prior.