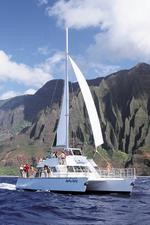 Adult Price:
$210.82
-
Members Price:
$189.74
Child (7-12) Price:
$189.20
-
Members Price:
$170.28
This 5-hour cruise to Na Pali when the afternoon light brings a special magic to it. Friendly, professional staff share history of old Hawai'i, encounter dolphins, enjoy snorkeling - conditions permitting - gear & instruction included. A 3-course dinner with appetizer of fruit, cheese, salami, crackers, pretzel snacks, tossed green salad, teriyaki chicken, rice, fresh vegetable stir-fry, dinner rolls, pineapple spears,& cookies. Beverages include soft drinks, iced water, domestic & locally-brewed beers, wine & Mai Tais. Alcohol is served after water sports with ID required. A romantic Hawaiian sunset tops off a perfect day.
Accommodation Information:
check this box to acknowledge our cancelation policy which is Tours canceled within 48 hrs. of tour date will be charged a 50% service fee. No Shows charged 100%. Group charters require a 50% deposit charged one week prior.