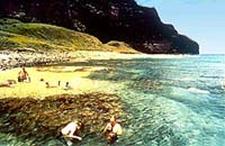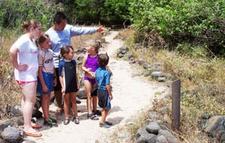 Adult Price:
$210.82
-
Members Price:
$210.82
Child (7-12) Price:
$189.20
-
Members Price:
$189.20
Reserve IN real time at www.kauaiseatours.com and save on our BEACH LANDING NA PALI RAFT ADVENTURE. We take a limited # of passengers to the secluded beach site of the ancient Hawaiian village of Nu`alolo kai when conditions permit generally April-Oct.
This is the ultimate adventure for an up close, fun exciting, unique and educational experience. It will WOW you!
Our rafting tours explore the nooks and crannies of Na Pali in all of its majesty! Venture into sea caves and under waterfalls when ocean conditions permit, encounter lots of playful dolphins, sea turtles, colorful tropical fish.
The beach landing at Nualolo Kai (on NaPali), is the site of an ancient Hawaiian settlement which has been called one of the most significant archaeological site in the state. Our crew will take you on a guided narrated hike on the trail into Hawaii's past. After the walk enjoy a hearty beach picnic lunch and suit up for snorkeling at the best reef on Na Pali(the Hawaiians had a fishing village here for a very good reason- lots of fish!). All the snorkel gear and instruction is included and this wonderful reef is perfect whether you're an experienced snorkler or just beginning to learn.

This is the ultimate Na Pali coast adventure tour and we LAND YOU RIGHT ON THE BEACH don't be fooled by others who try to imitate us, we've traveled this coast on rafts for over thirty years, could say we wrote the how to book on rafting NaPali!