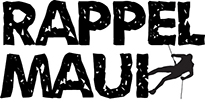 Phone: 808-270-1500
Year Established: 2007
Rappel Maui is Maui's first and only rappelling and canyoneering company, and it's the island's boldest eco adventure that's committed to delivering the best activity on the island while putting safety first. It's also the only waterfall adventure tour that takes place in a private rainforest valley, making it the most exclusive outdoor experience on Maui. Besides our one-day rappelling recreational adventure, we also offer classes in canyoneering, rescue techniques and wilderness first aid. To learn more about tours and classes, please visit our web site at RappelMaui.com
ACTIVITIES: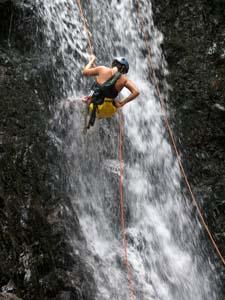 Learn to walk down walls of water and rock. Take a true "walk on the wild side" with Maui's boldest and most genuine adventure -- walking down waterfalls into a rainforest canyon. We teach you on a 60-foot dry jungle cliff-side, and once you've "got it," the 50-foot falls is next. Your third "rap" is a 30-foot waterfall, your final descent into the wilds.

We rappel in a privately-owned valley located an hour out on the Hana Highway. We waited years for permission to use this special valley. Now you too can see its beauty up close and personal.

THE ADVENTURE SUMMARIZED
- Drive half the famous Hana Highway with our knowledgeable guides.
- Destination: a 26-acre botanical garden where you gear up in topnotch equipment.
- Hike a short distance on rainforest trails into this private valley.
- Training: on a high ridge overlooking the valley the guides give you a "show 'n tell."
- 60-foot dry jungle wall: This is where you learn and practice till you get it right.
- 50-foot waterfall rappel into a large pool.
- 30-foot falls, technically more difficult.

DETAILS
Toilets at the trail head in the botanical garden.
Lunch included (turkey or veggie wrap, cookie, fruit, water). Vegan or gluten-free available.

OBSERVERS: Companions who do not want to rappel may still hike and swim and watch the rappellers.
Cancellation Policy: If you cancel 48 hours or more prior to the date of the event, you will receive a full refund less a 10% cancellation fee. If you cancel within 48 hours for any reason, you will receive no refund, unless we can replace you. If Maui Canyon Adventures cancels (which we may in the event of dangerous weather or conditions), you will receive a full 100% refund. No refund is issued if participants are unable to join the tour at check-in because they don't meet the age or weight requirements. For our 3-day courses, the cut-off period for full refunds is seven days prior to the first class, unless we can replace you. We also guarantee within seven days that the class will take place once we confirm it.