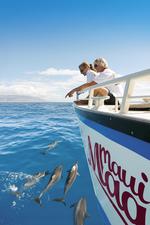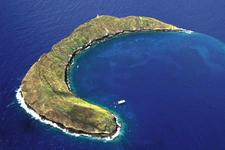 Adult Price:
$128.60
-
Members Price:
$128.60
Child (3-12 yrs) Price:
$96.45
-
Members Price:
$96.45
Reserve SNUBA (Payable to instructor on board) Price:
$0.00
-
Members Price:
$0.00
Due to her unique design, the Maui Magic has a wide choice of locations she can access. Unlike other boat trips that only have one or two spots that they can visit, the Maui Magic gets to explore a lot more of the coastal waters around the island. We get to see amazingly-beautiful tropical fish, colorful corals, Green Sea Turtles and even seasonal Humpback Whales! And, along the way, you get to explore Maui?s dramatic coastline that only a few boats travel to.

We first serve you a continental breakfast featuring: muffins, fresh tropical fruit, Kona coffee and juices.

Once we get to our second snorkel site, the crew fires up the barbeque for a delicious hot-off-the grill lunch. Your choice of hamburgers, veggie burgers, hot dogs, chips and cookies. We feature an open bar of beer, wine and sodas.

All of your snorkel gear and instruction are provided. Disposable 35mm underwater cameras are available for purchase and optional SNUBA dives are available.
Accommodation Information:
Full refund if we receive notice of cancellation or rescheduling at least 24 hours prior to trip so that we can sell your seats. In the event of illness, we do require a Maui doctor's note for a refund. Wind & water conditions will dictate our snorkel site - Molokini or Coral Gardens.